HD-DVD Demuxer Freeware
HD DVD Demuxer is designed for decompilation of total High Definition DVD on all data streams by pushing the only button.
Output files of HD DVD Demuxer are well structured and named, so you have visual information about disposition data in source HD DVD. Later you can use these files separately in any of HD DVD authoring program.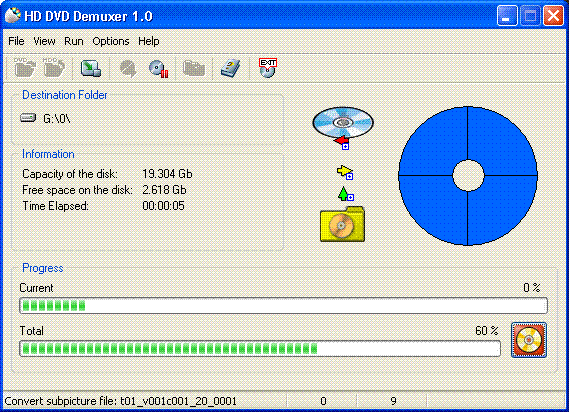 HD DVD Demuxer is an ideal choice if you need total decompilation or extraction of any data from HD DVD. You need to specify the input source HD DVD (file hv000i01.IFO) and an empty output folder. As a result, the target folder will contain all data files from source HD DVD in the following formats: M2V, M1V, AC3, WAV, DTS, MPA, MLP, M4V. Subpictures will be extracted as a list of BMP files and SST file with start times and durations of the subpictures.
Features:
Automatic processing of the whole Standard High Definition DVD
Automatic processing of the whole Advanced High Definition DVD
Processing of the single EVO file
Video, Audio, Subpicture data stream extraction
Angles processing
Creation of well structured list of files according to VobID and CellID layout in EVO-files
Creation of SST file for using in Sonic Scenarist as subpictures timelist (for Standard HD only)
Decompilation time of any HD DVD is about 1 hour depending of computer power
Download HD-DVD Demuxer
Restrictions:
HD DVD Demuxer does not make any unauthorized operations with HD DVD, it is not intended to break cryptoprotection or any other protection of disk. HD DVD Demuxer is intended to help DVD author in the remaking of old HD DVD projects in new using the method of back conversion of muxed data. HD DVD Demuxer may not be used for authoring of unlicensed HD DVDs. Any attempts to use this software in an unauthorized way is not the responsibility of DVDLogic Software.