DVD2BD Express Freeware
DVDtoBD Express is very simple program for DVD into BD conversion. DVDtoBD Express is independent program and does not use any additional software to create Blu-Ray. This is very simple in use one button program. However it contains powerful internal functions, as DVD Demuxer and BD Muxer.
DVDtoBD Express is result oriented software and you can see destination BD approximately in 1 hour after clicking on "Start" button. All you need to do is to set the input and output paths, and then you will have analogous to source DVD but with valuable BD structure on the output. You will see the results after the only click. You do not need to set options before you proceed.
DVDtoBD Express is not expensive as BD or DVD authoring software but allows doing conversion without big efforts, times and tons of manual work. You also do not need to use big number of different programs because DVDtoBD Express is "all in one" program.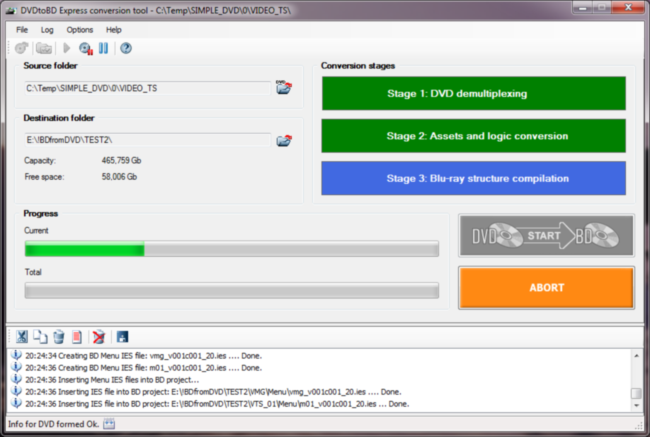 Download DVD2BD Express
Restrictions:
DVDtoBD Express is not intended for use with DVD titles for which you have not obtained the proper authorization. It cannot break cryptoprotection or any other type of copy protection. DVDtoBD Express is intended to help Blu-ray Disc authors in the conversing of old DVD into last Blu-ray format. DVDToBD Express does not violate any intellectual property rights, as it can only be used with DVD Discs that do not contain copy protection.